Take a Morocco desert tour and explore the stunning landscapes of this vast country. The most well-known desert in Morocco is Erg Chebbi, a dune cluster about twenty kilometers long and ten kilometers wide. It lies over three hundred km east of Marrakech and is one of the most popular destinations in the country. Aside from the sand dunes, you can also explore the Dades and Todra gorges, and even visit the kasbah of Ait Ben Haddou.
Whether you want to see the vast orange sand dunes or take a relaxing dune-bashing tour, a trip to the Sahara desert is a truly unique experience. However, navigating the region can be a royal pain. It is best to get some advice before booking your trip and do not wait for touts in the souks.
A Morocco desert tour can include several stops for photo opportunities, including the UNESCO heritage site of Ait Ben Haddou. This place has been featured in many films, including Lawrence of Arabia, The Mummy, and Prince of Pers. You may even see some of your favorite actors in the area.
If you are looking for an adventure, an Erg Chegaga desert tour is the perfect way to explore the Moroccan desert. The dunes here are vast and wild, and you will be surrounded by rocky expanses. You can take an off-road vehicle and experience the sand dunes in a whole new way.
Day one of your Morocco desert tour begins in Marrakech, with a trip to Ait Ben Haddou. You'll also visit the Ksar of Tamnougalt, the ancient town of Zgoura, and the kasbah of Dades valley. Afterward, your tour will end at the village of M'hamid.
Once you've chosen a desert tour, you'll need to pre-book hotel rooms for the nights before and after your tour in Marrakech. This way, you'll have two nights in Marrakech to explore the city and reconfirm your tour.While desert tours don't offer luxurious accommodations, they are generally more comfortable than basic, fast tours. You'll also have the option to stop and explore at your own pace. You'll also have more freedom of movement, which is important if you're traveling with a family.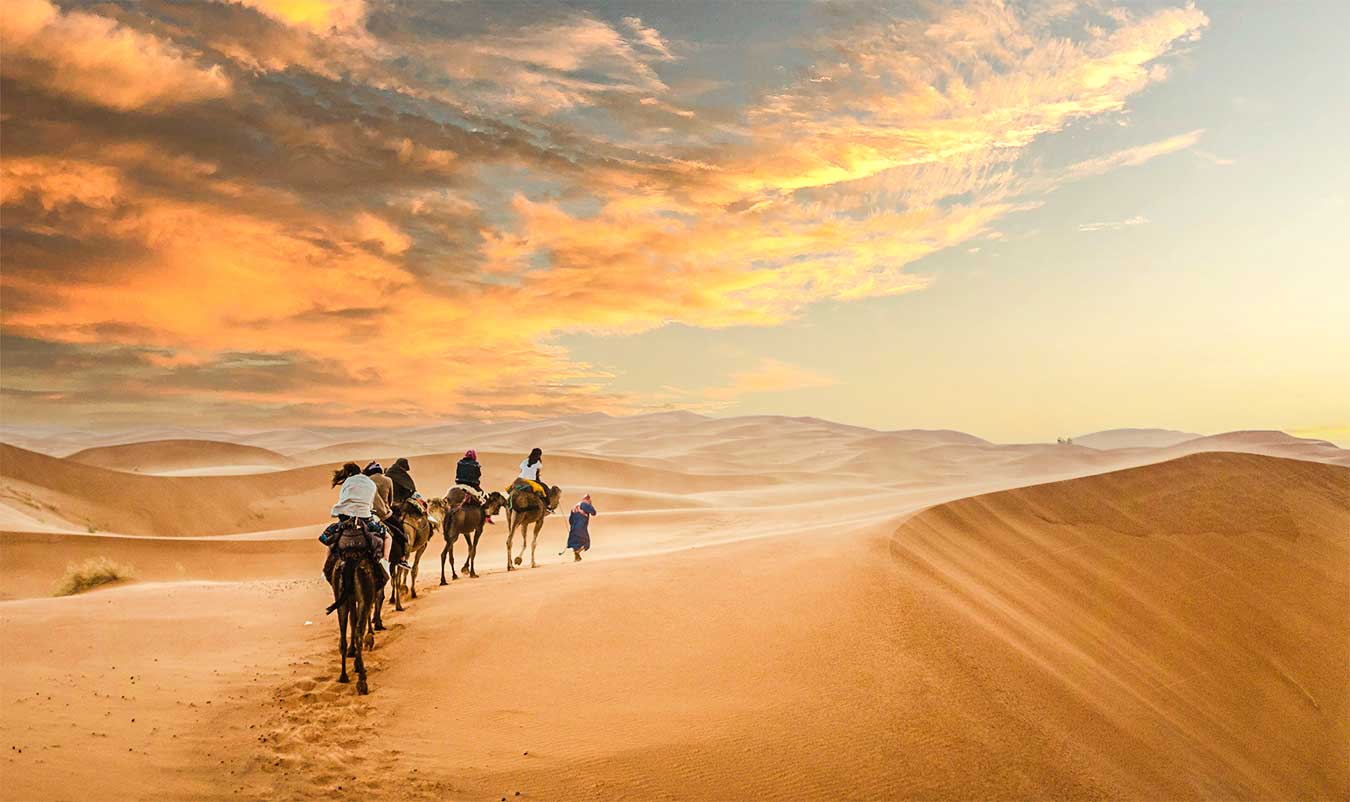 The best time of year to visit the desert is March-May or September-October. These are the shoulder seasons for Europeans, so you won't find too many other tourists and fewer crowds. Plus, the desert won't be as hot during these months. In addition, spring and autumn are excellent times to tour around all of Morocco. The weather remains mild and pleasant for a trip to the country's most popular destination.
Make sure to pack warm clothes for the trip. It's possible that it might get cold in the Sahara at night. Wear a thin-down jacket or thermal top to avoid the chill. It's also a good idea to bring a tripod for your photography. Your smartphone's camera will be inadequate to capture the incredible sights of the desert.
A Morocco desert tour is a great way to experience the vast landscape of the country. If you are a family with young children, a desert quad bike is a perfect option. It's a great alternative to trekking across the dunes in the midday heat. And it's also an enjoyable way to spend some quality time with your family.
The Sahara desert is the largest desert in Africa and the hottest desert on the continent. It's bordered by Algeria, and travelers must cross the High Atlas Mountains to reach the Sahara. Many shorter tours won't take you to the Sahara, but instead will take you through rocky deserts near Marrakech.
For a true experience of the Sahara desert, a Morocco desert tour should be at least five days long. This is enough time to see the sand dunes and ancient mud-walled fortresses. The tour should also include the Atlas Mountains and the Chefchauoen Valley.
The desert is a unique environment to explore. The terrain is vast and diverse, and the terrain is unimaginably beautiful. Trekkers will find the environment to be challenging but rewarding. It is a great opportunity to reflect and take in the vastness and beauty of the landscape.
Before setting out, be sure to check the pick-up and drop-off times. Most tours will pick you up at your hotel in Marrakech, but you may want to reconfirm the pick-up time the day before. If you're staying in Medina, you can contact the tour supplier to make sure the pick-up is on time and at a location, you'll be comfortable. A typical tour takes two nights and three days, and the departure time is typically around 7 am. The return date will be around mid-afternoon, depending on the tour.
A Morocco desert tour can be a great way to experience the Sahara in a completely different way. If you're looking for a trip that will blow your mind, you'll want to take a desert tour that allows you to get away from everything. A private vehicle and a guide will make the entire experience more personal and comfortable. A private vehicle also means you'll have the luxury of being flexible in terms of your itinerary.
You'll also want to make sure to pre-book a couple of nights in Marrakech before and after your desert tour. If you want to see the Sahara region in its entirety, you'll need at least five days to cover all of the highlights. This is enough time to take in the giant dunes and ancient mud-walled fortresses, as well as the canyons and mountains. In addition, you'll also have time to visit Marrakech and Fez, as well as the Atlas Mountains and Chefchauoen.
Once you're in the middle of the desert, you'll want to explore the nomad culture and enjoy a camel ride. You'll also want to visit the Draa Valley. There, you'll see palm groves, nomads, and beautiful scenery. You'll also have the chance to enjoy mint tea and panoramic views of the sunrise.
There are many Morocco desert tour options from Marrakech that suit all budgets. You can choose from private luxury tours, standard tours, and mixed group options. The price of a tour depends on your budget and the level of luxury you're looking for. Some Moroccan desert tours offer overnight camping in the Merzouga Sahara Desert, which is one of the largest sand dunes in Morocco.
Zagora, an easy-to-access desert town, is a great short trip from Marrakesh. While it is not as spectacular as Merzouga, it does offer a unique desert experience. You'll have the opportunity to meet a local Berber family and see a camel caravan. Several options include the opportunity to take a camel ride, and many of these tours include other activities as well. If you're looking for an unforgettable vacation, a Morocco desert tour should be on your bucket list. The Sahara Desert is one of the world's most famous and beautiful deserts. It's not just famous for the sand dunes, though. There are also many other natural sceneries to enjoy, including imposing mountains, lush oases, and tall canyons.